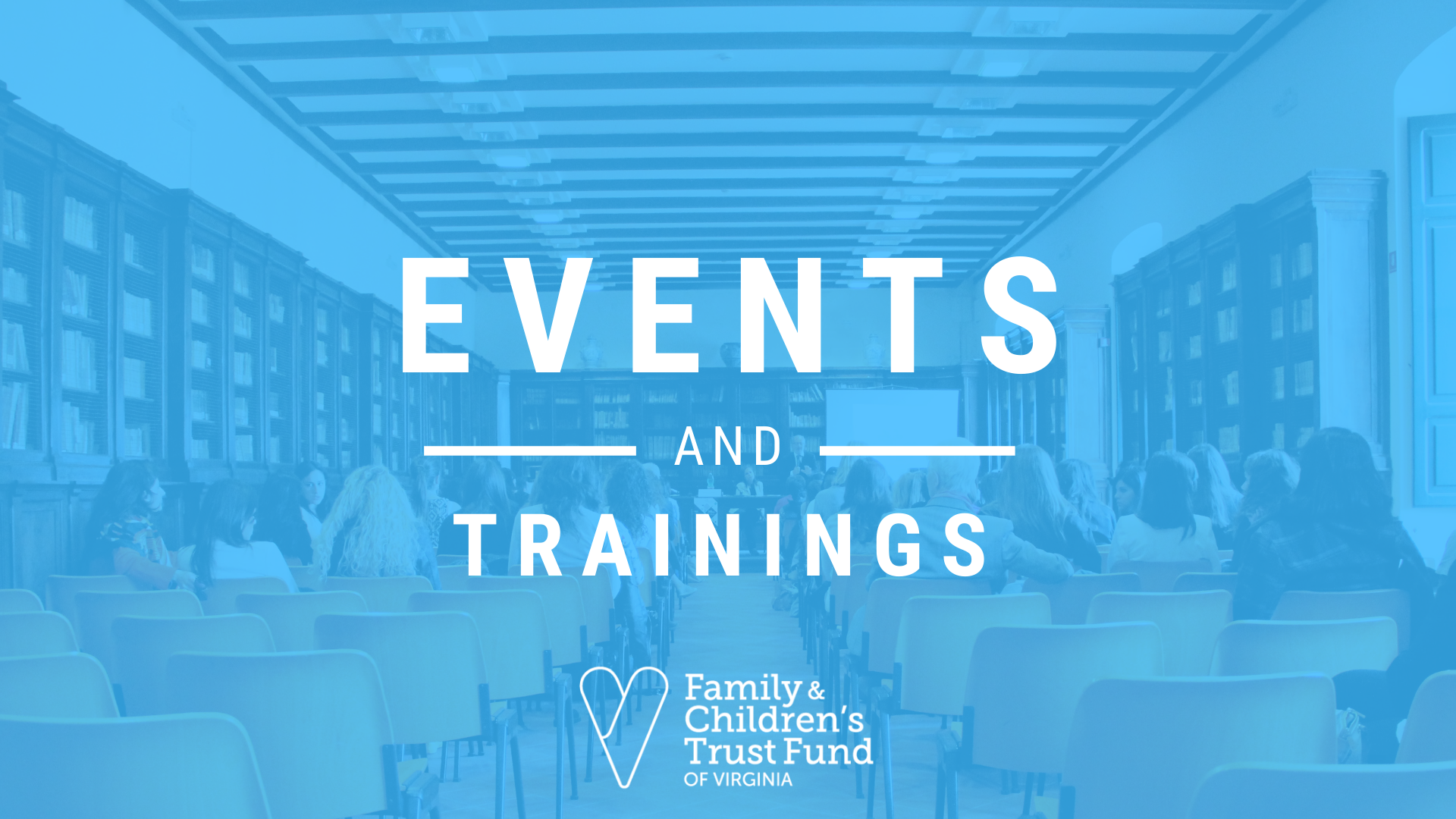 Greater Richmond SCAN – Community Programs Training 2023
Greater Richmond SCAN is hosting a variety of trainings throughout 2023. To check for upcoming events and register, please click here. These events are free and open to the public. There is an opportunity to purchase continuing education (CE) credits.
Early Impact Virginia: Joy at Work (statewide home visiting conference)
May 17, 2023, DoubleTree by Hilton Hotel Richmond – Midlothian (1021 Koger Center Boulevard Richmond, VA 23235)
A day to be motivated. A day to be introduced to new materials and people in the field. A day to come together with regional and national professionals, fellow Virginia Home Visitors, and the Early Impact Virginia team.
The registration fee is $99.00 per person. To register, click HERE. Registration will take place on The Institute. Follow-up emails and correspondence will include all necessary information for the day, as well as workshop and guest speaker details. Our website will always have the most up-to-date Day of Learning details. If you want to register your entire team, Group Registration Instructions can be found HERE. 
Virginia Coalition for the Prevention of Elder Abuse's 27th Annual Conference
May 24-26, 2023, at the Delta Hotels by Marriott Virginia Beach Bayfront Suites (2800 Shore Drive, Virginia Beach, VA 23451)
This year's theme is Powerful Partnerships: Fostering Dialogue and Working Together. Featured sessions include:
Elder abuse prevention
Medical side of elder neglect
Multidisciplinary teams
Online scams
Understanding bipolar disorder
Documentation practices
Community collaboration
For more information on this year's conference: 2023 VCPEA Conference Agenda
Now accepting registration to the conference waitlist on Eventbrite.
Action Alliance 2023 Retreat: Reflect, Restore, Reset
June 21st-23rd, Eastern Mennonite University (EMU) in Harrisonburg
The Virginia Sexual & Domestic Violence Action Alliance is hosting their first in-person retreat since 2019! The retreat is for advocates, preventionists, and community leaders around the state to connect, heal, and build skills.
Cost: $325.00 per person. Registration does not include lodging. Click here to register. (Registration closes June 7)
DCJS Summer School Safety Training Forum
July 24th-27th
Hampton Roads Convention Center (1610 Coliseum Drive, Hampton, VA)
The Virginia Department of Criminal Justice Services (DCJS) is pleased to partner with the Office of the Attorney General (OAG), the Virginia Department of Education (VDOE), the Virginia Association for School Superintendents (VASS), the Virginia D.A.R.E. Association, and the Virginia Risk Sharing Association (VRSA) to offer the 2023 Virginia School Safety Training Forum. This year's Forum will be held in Hampton, Virginia on July 24-27, 2023. The Forum will feature engaging keynote speakers and interactive workshops for as many as 1000 participants in the fields of school and division leadership, school security, law enforcement, PreK-12 counseling and mental health, and others with a role in ensuring schools are safe places to work and learn.
The theme of the Forum, "Fostering a Culture of Trust, Collaboration, Awareness, and Safety," highlights the critical importance of relationship building among all stakeholders, particularly as a result of the challenging past three years for our students and school communities. Trust that we know how to respond appropriately in an emergency, ensuring that we are fully participating in drills and providing necessary support, that the school culture encourages connection and support, and building partnerships to ensure a safe and supportive school environment, have never been more important.
More event information can be found here.