Donate to the Family and Children's Trust Fund when filing your Virginia State income taxes!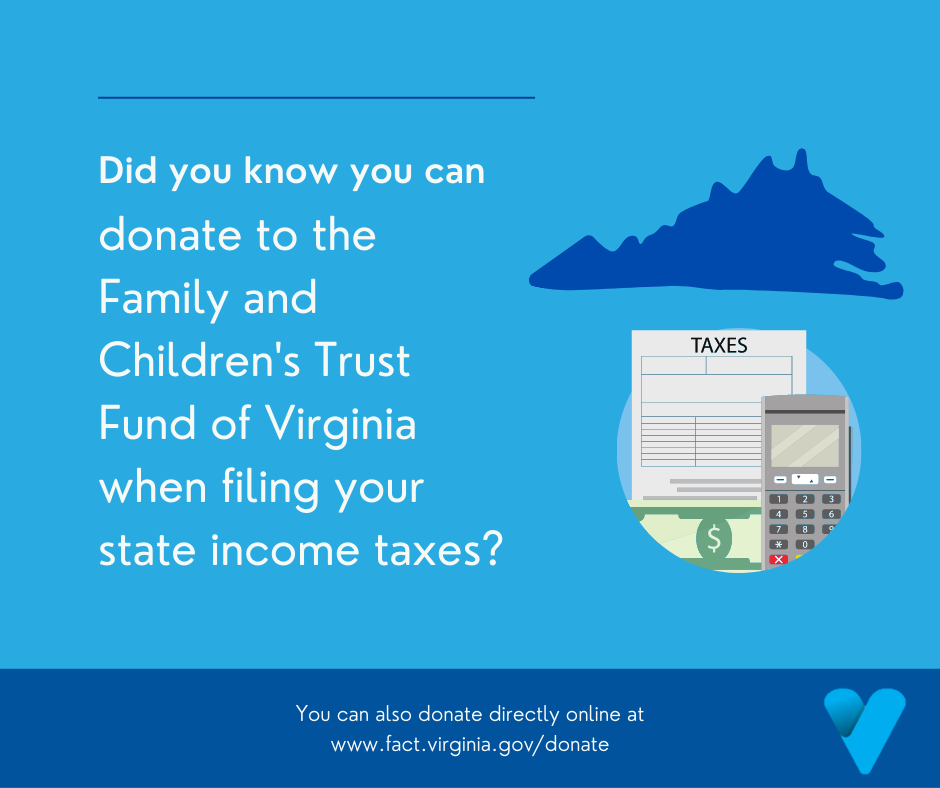 How to Donate
Virginia law allows taxpayers to voluntarily donate all or part of their income tax refund to one or more qualified organizations as approved by the General Assembly. To make a contribution on the Virginia Schedule VAC form, under "Other Voluntary Contributions", enter code 72 for the Family and Children's Trust Fund and then enter the contribution amount. The amount you donate will reduce your refund or increase your balance due. See the instructions for Virginia Schedule VAC for additional details or visit: http://www.tax.virginia.gov/content/voluntary-contributions.
You may also donate online or send your contributions directly to FACT:
Family and Children's Trust Fund
801 East Main Street, 15th Floor
Richmond, VA 23219
How will your donation help?
FACT is public-private partnership that raises and distributes money for the prevention and treatment of family violence. It also serves as the data clearinghouse on family violence throughout Virginia and supports organizations and communities to build capacity and promote collaborative responses to family violence. FACT serves human service professionals and members of the general public. It is overseen by a Board of Trustees, appointed by the Governor. FACT does not provide direct services to victims or families, but rather its program provides valuable and useful tools for agencies and communities to utilize in developing their independent prevention services in working with victims. FACT has distributed grant's in the amount of over $3 million to support a wide range of local programming efforts to prevent and treat family violence across the Commonwealth. Administrative costs of staff, office space, and assistance with special needs in business operations are covered by the Virginia Department of Social Services.
Additional information about projects and programs funded by FACT can be found at: http://www.fact.virginia.gov/grant-projects/