Oprah championing the importance of trauma-informed care
March 9, 2018
This coming Sunday, Oprah Winfrey will present a 60 Minutes story on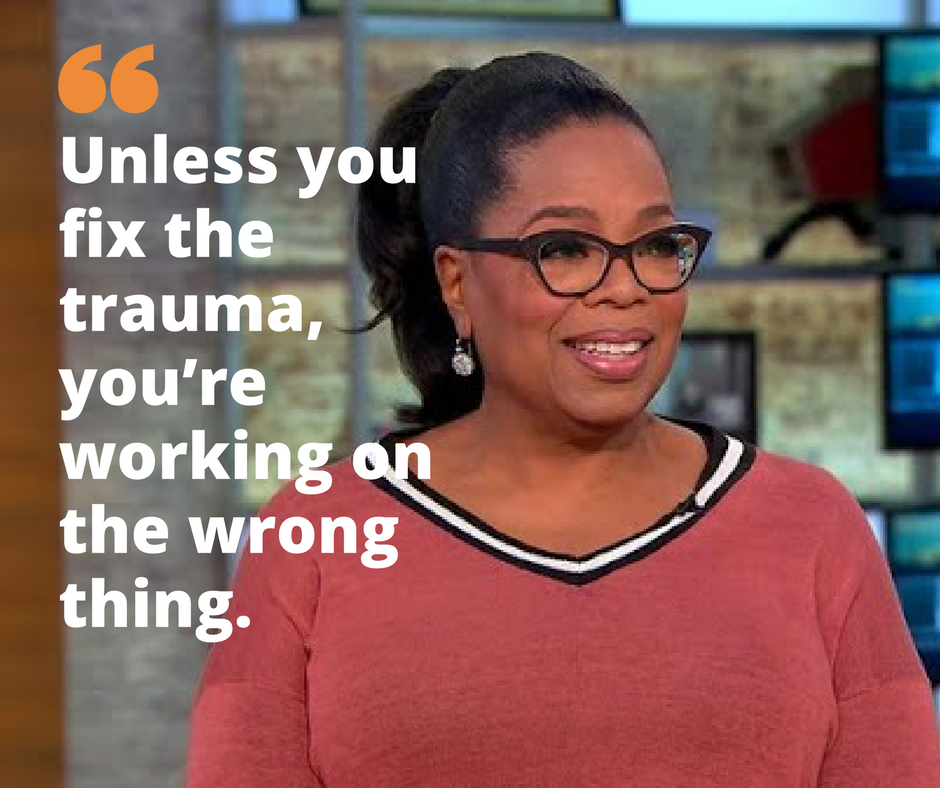 childhood trauma's long-term effects.  In the report, she speaks to Dr. Bruce Perry to learn how trauma affects a child's brain and can lead to physical, mental, and social health problems throughout the child's life. The special will also highlight trauma-informed efforts in Oprah's hometown, Milwaukee.
In a promotional CBS This Morning interview, Oprah spoke about what she'd learned about the impact of trauma stating: "This story is so important to me and I believe to our culture that if I could dance on the tabletops right now to get people to pay attention to it, I would. It is definitively changed the way I see people in the world, and it has definitively changed the way I will now be operating my school in South Africa and going forward any philanthropic efforts that I'm engaged in." She went on to say, "a lot of people working in the philanthropic world, trying to help disenfranchised people…are working on the wrong thing…unless you fix the trauma, you're working on the wrong thing."
Oprah's shift in perspective comes down to what Oprah calls a "life-changing question.": "See, we go through life and we see kids who are misbehaving. 'You juvenile delinquents,' we label them. And really the question that we should be asking is not 'what's wrong with that child' but 'what happened to that child?' And then having the resources to be able to address what happened to you."
In their landmark ACEs (Adverse Childhood Experiences) Study, the CDC found that exposure to ACE's, including traumatic events such as child abuse and neglect, domestic violence, and substance abuse in the household, can lead to lifelong mental, physical, and social health issues. Based on those findings, experts have cited childhood trauma as one of the most critical public health concerns for children today. More than 60 percent of children in the US have been exposed to a traumatic event within the year and in Virginia, 19% of children have experienced two or more ACEs. Fortunately, research has also shown that a stable supportive relationships with caregivers and strong community supports buffer the effects of ACEs, allowing children to thrive.
Just as Oprah highlights, the magnitude of this issue necessitates infusing trauma-informed practices into human services systems, non-profit organizations, and philanthropic efforts. This is the first time a cultural icon of this standing has recognized this issue, however many organizations in Virginia and across the nation have already shifted to trauma-informed practices and programs. As an established state-wide philanthropic entity, FACT has focused on promoting and supporting trauma-informed practices throughout Virginia for several years. Incidentally, FACT is the only organization in Virginia, and one of few nationally that addresses trauma across the lifespan.
As trauma-informed approaches gain national attention, we'd like to highlight several Virginia organizations that have already made trauma-informed work central to their mission:
Family & Children's Trust Fund
In the last several years, FACT shifted its focus to include support to direct services and system-wide trauma-informed care approaches. Programmatic grants currently fund Trauma-Informed Community Networks in Greater Richmond and Hampton Roads.  FACT also requires all funded direct service programs to have trauma-informed components.  In addition to programmatic grants, FACT conducts on-going research on trauma-informed care, publishes issues briefs, updates and hosts the statewide FACT Data Portal and supports statewide trainings.
Greater Richmond SCAN
Greater Richmond SCAN is the backbone organization for the Greater Richmond Trauma-Informed Network (GRTICN), a diverse group of professionals in the Greater Richmond area who are dedicated to supporting and advocating for continuous trauma-informed care for all children, families and professionals. The TICN is funded by FACT and exemplifies FACT's commitment to system-wide trauma informed practices in Virginia.
Voices for Virginia's Children
Voices for Virginia's Children's mission is to champion public policies that improve the lives of Virginia's children. Promoting resilience and preventing childhood trauma is a part of Voice's 2018 legislative agenda and includes promoting trauma-informed best practices and continuing support for the Governor's Children's Cabinet.
Don't forget to tune into Oprah Winfrey's 60 Minutes special this Sunday March 11 at 7:00 p.m. ET!